Nextec Diamond trenching
Urban Areas

We have developed a very advanced methodology to achieve a stable balance between rollout speed, quality, durability, and scalability of Fiber optic infrastructure rollout.
The method we have developed is based on our Nextec diamond trenching machine which is a version of micro trenching. Traditional microtrenching is a great technology that provides many benefits in terms of speed and capacity, but there is still many downsides and issues using this technology. It caused a lot of disruption to the road and the reinstatements is difficult. We took that same concept and developed that in to something that has the same benefits and more without the down sides traditional microtrenching is know for. Instead of using a wheel with teeths we use diamond blade to mill the material, spinning it with over 1000 rpm. The method has a production capacity of 1-1,5 m/min cutting through the top layer as well as the road base while deploying a large number of single ducts (up to 24 pcs of 7 mm duct) in the bottom of the trench.
The method and machines are the result of our experience, and the cooperation we have with our suppliers R&D department.
The method consists of:
Traditional cable / infrastructure investigation.
When needed Cable / infrastructure depth investigation, using ground penetration radar.
Diamond trenching and duct installation.
Backfilling the trench using a liquid Nextec fill.
Permanent reinstatement of the road surface.
Traditional
excavation
Mini-
trenching
Urban
trencher
Trench width
300-600mm
40-160mm
28-32mm
Trench depth
400mm ≤
≤ 1200mm
≤ 380mm
Backfill
Traditional
Liquid Mortar
Nextec Fill
Compaction
Traditional
Traditional
None
Reinstatement width
900mm ≤
450mm ≤
35mm ≤
Trench per shift (8 hours)
55-70m
200-400m
200-600m
Temporary traffic management
Traditional
Traditional
Light
Complete production per day including backfill and reinstatement
minimum 2 days for completion
150m
300m
In comparison with traditional excavation methods, Nextec diamond trenching is significantly faster. The machine cuts down to 380 mm (15 inches) depth and 28 mm (1,1 inches) width.

Nextec's deployment methodology and trench size allows the traffic to run smoothly and without interruption over open trenches. This results in full functional traffic condition while production is in progress.

The method enables the crew to backfill all excavated trench during their work shift.

Nextec Diamond trenching and Minitrenching
It is important to separate mini trenching with carbide teeth and our diamond trenching. Nextec's machine are exclusively made for diamond trenching and have an average rotating speed of 900 rpm compared to machines with carbide teeth that rotates with around 200 rpm. The diamond blade cuts right through and pulverize any obstacles. The advantages of that is a monotonous cut with straight standing walls and a very even cut. This makes the backfill process easy and the sealing cost effective due to consisting cut width. Seen in picture is how a cut can look like in the reality. Many combinations of directly buried 14 mm ducts and 7 mm ducts are possible, for exmaple 4 pcs 14 mm duct and 18 pcs of 7 mm duct. The trenching depth can be adjusted as you go, to meet the requirements and / or to avoid damaging the existing infrastructure upon passage.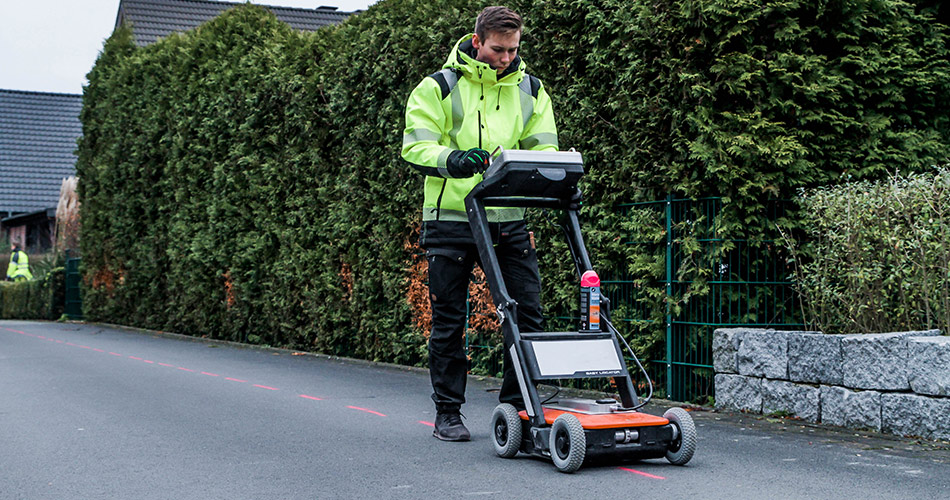 The on-site planning stage is one of the most essential step for the Nextec system to succeed.

In this step, the detail design that has been made with respect to the existing infrastructure and prevailing environment, is visualized. The trench routes are identified and planned by spray painting the path. To increase reliability Nextec can provide the on-site planner with a GPR (Ground Penetrating Radar) which is used when needed to ensure the depth of existing infrastructure.

In this step the plan is also made for consumables quantification, supply and depot locations along the routes.